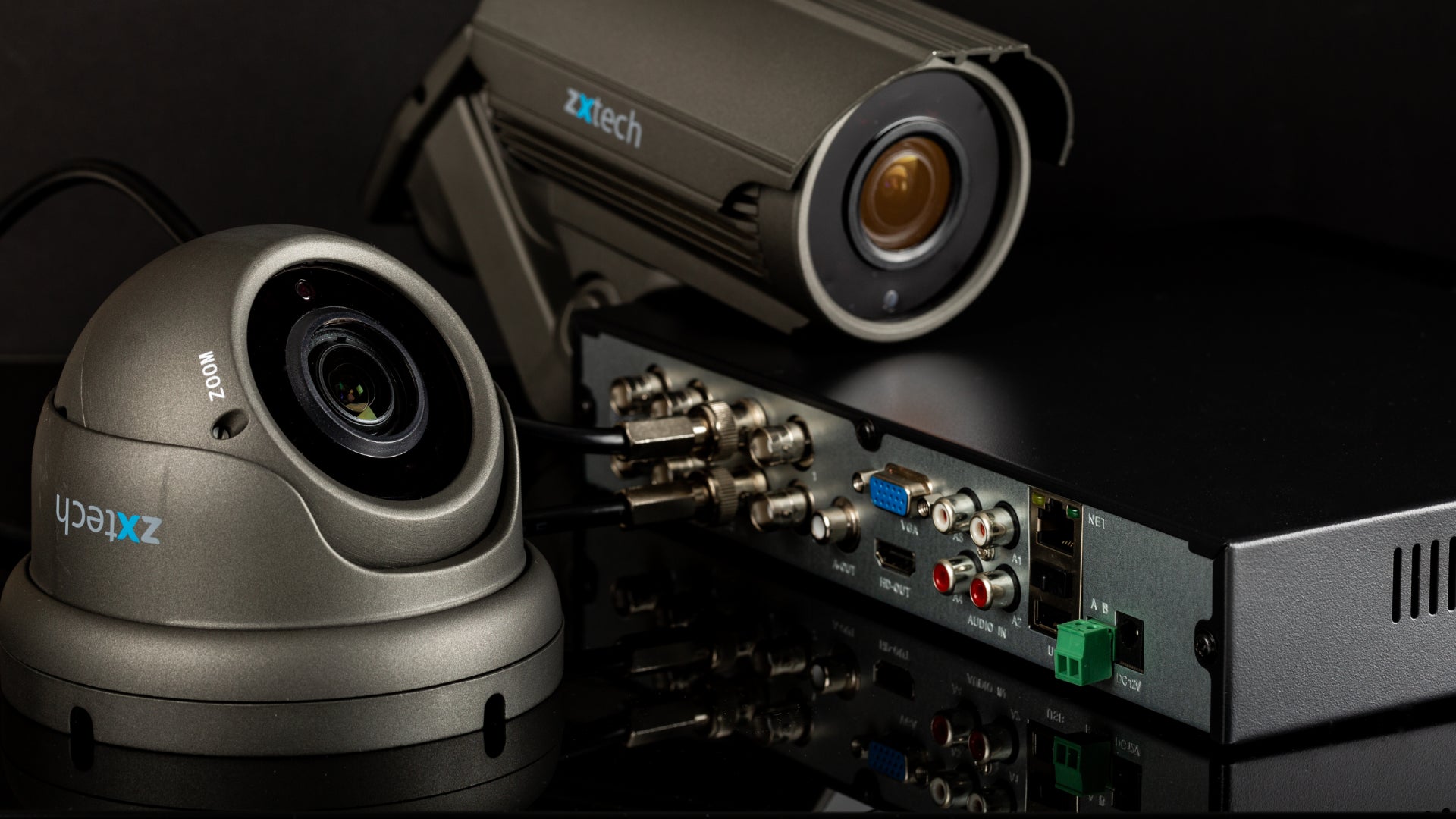 AHD CCTV System
Complete Analog AHD Security Systems
These are complete plug and play CCTV camera kits that can be installed indoor or outdoor as the housing is rated up to IP66. Shop 5in1, AHD, TVI, CVI, 5MP, 1080p, 700TVL, 1000TVL CCTV Systems. Analog systems are very easy to set up and the standard of CCTV before IP arrived. They are the definition of plug and play in CCTV as there is no configuration. You plug the cables and then it plays video. They now come with the mobile app service, for anywhere access.
Complete security system that can be used for home or business with no extra configuration. Analog CCTV security system that can support from 960H to 5MP resolution and make almost no difference with IP Systems. The system is 4in1 supports CVBS, AHD, TVI, CVI, a convenient feature that makes these kits compatible with any DVR, the model can be easily selected from the joystick.
This system can be a great solution for everyone who does not want complicated setup, simply plug and play. No need to worry about the resolution anymore, Zxtech invested in high-quality products. Most cameras are coming with high-performance Sony Starvis Chip and improved night vision. The IR LEDs are built-in in every camera and give you between 20 and 60 meters night vision.
Every system comes with DVR and optional HDD so you will be able to record footages 24/7 or motion detected ones depends on your needs. Enabling motion detection the mobile app linked to the system can send you a mobile push notification. Viewing your live CCTV feeds on the move, not only locally is essential for many people. The system support P2P with easily QR scan and connect. Greater performance with restriction in terms of video quality. Almost no difference with IP systems.
Easy Installation and No Setup required
The cameras use coaxial cabling, making the system popular for many customers who do not want to replace the existing analog infrastructure. Coaxial cables are very popular as they have very long reached over the installation. Much easier to set up than IP and no need of setting IP addresses as well. The system comprises high-quality CCTV DVR and Analog HD CCTV cameras. Wired CCTV solution that won't let you down ideal for commercial or business settings.
Next Business Day Delivery
Place orders before 3pm for next business day delivery. Free shipping for all kits.
Customer service
Reach out Mon-Fri, 9am-5pm. Response within 24 working hours.
Refer a friend
Earn rewards when your friends make a purchase.
VAT Invoices
We always include your VAT invoices in your delivery.
Discover everyday privacy protections.
Privacy is Our Priority.
Privacy is a fundamental human right. At Domar CCTV, it is also one of our core values. Your devices are important to your safety. We sell our products to protect your privacy and give you control over your information. It's not always easy, but those are the principles we believe in.
Face Detection Data
Our cameras come with smart face detection features. Face detection data exist only on your device and can be deleted at any time. It does not go anywhere else. Face detection features can be turned off at any time.

Video Footage
Your security footage is protected by your password and cannot be accessed without it. Once you have changed the default password of the device, only manufacturer can reset it, after confirmation of purchase and identity.

Audio Data
Audio recording can be turned on and off if the camera is equipped with a microphone. It cannot be accessed without your password.

App Access
One device can link up with a single mobile app account. However, you may share it with another account and cease sharing at any time.