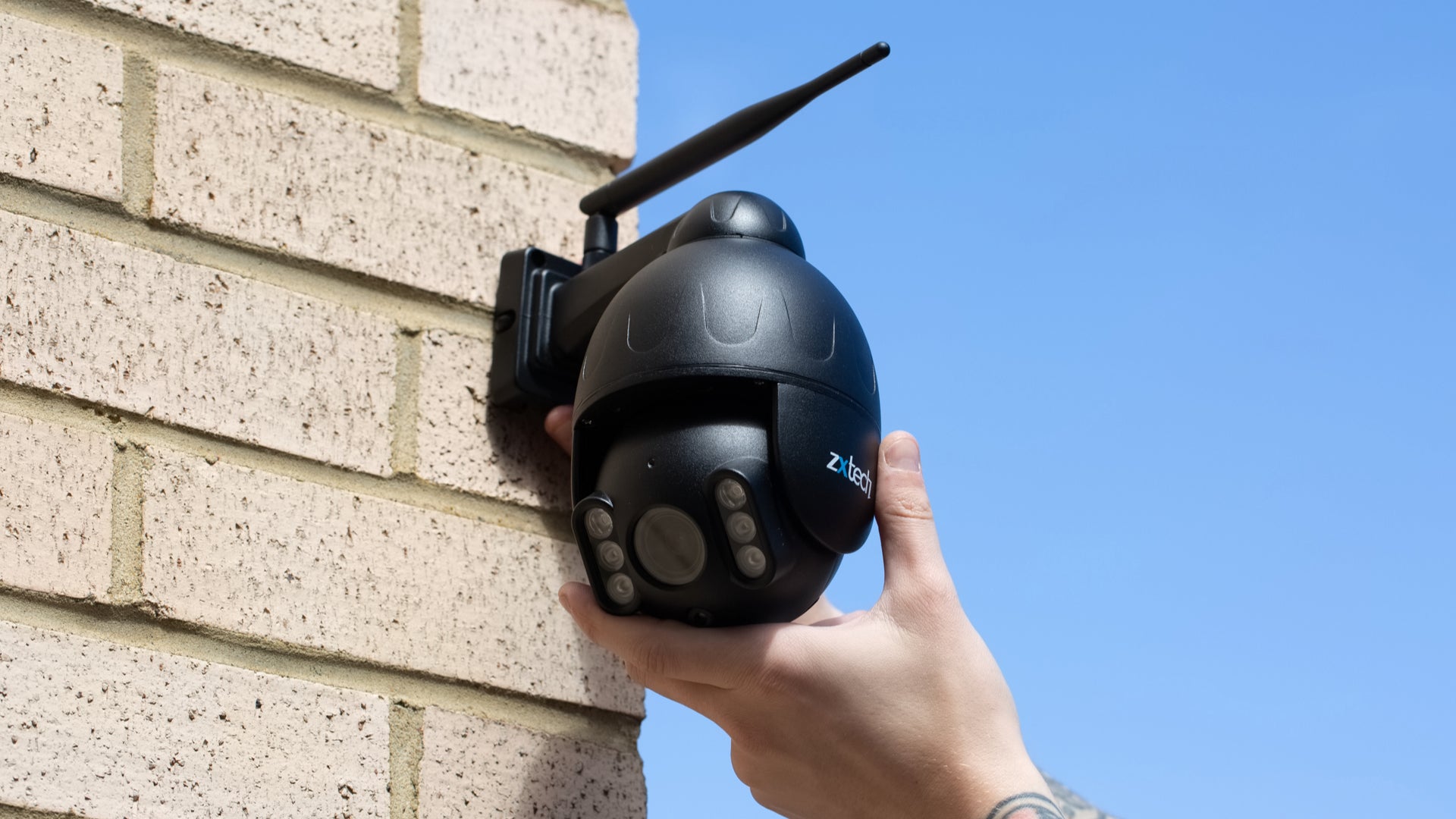 Wireless CCTV Cameras
Best Wireless CCTV Cameras from Zxtech in the UK
The Wireless CCTV Cameras come with the custom antenna to deliver the longest signal transmission in the industry. Providing various models that feature optical zoom, autofocus, motion recognition and motorised lens. Wireless CCTV Cameras are now available in our store and online store, which are most suitable for home and office use. These cameras have been specially customised to help you minimise cabling, choose from our wireless range to expand your existing system. Welcome to Zxtech's full wireless camera range. Offering Full HD with built-in WI-FI and remote viewing anywhere from your smartphone or tablet with motion detection or 24/7 recording. Zxtech provides the solid metallic body and weatherproofing that a standard cable camera will have, providing the peace of mind for your wireless security.
Wireless CCTV Cameras in Super and Ultra HD
Newest Wide Range of Wireless CCTV Cameras, true 5MP and 1080p. Zxtech latest wireless CCTV cameras, with 5MP Super HD or 1080p Full HD recording, let you keep an eye on what's happening at home or work when you are away. Wide range of dome or bullet cameras support both WiFi and Ethernet connection, 2.4GHz WiFi. Zxtech camera that can be wirelessly connected to your local WiFi. Wireless CCTV camera offer easier to install security solution to homes and business designed to keep cables to a minimum. Zxtech Wireless camera delivers sharp, up to 5MP video footage day or night with automatic IR. Our Wifi CCTV camera can be connected to your wireless network easily, less than two minutes to ensure you get a live feed.
Best Zxtech Outdoor Security Camera UK
Explore a range of Wifi CCTV camera systems which can be viewed via a mobile device such as a smartphone or tablet. Best outdoor security cameras UK that can combine quality and design, so your premises will be safe, even when you are not there. Top range of wireless CCTV camera that only needs a power supply to keep running. Whatever your budget and needs are we can offer WiFi CCTV camera that will meet your expectations. All type of wireless CCTV including two-way audio cameras, wireless PTZ cameras, varifocal or fixed lens cameras, dome or bullet ones. If you have a reliable Wifi network at home this wireless CCTV cameras will be a great choice for you. If not, then the cameras can be connected via Ethernet cable as well. Suitable for every weather condition.
Zxtech IP Camera Wifi Feature and quick remote monitoring
Zxtech Wireless CCTV cameras support H.265+ video compression and help to reduce the HDD capacity up to 2.5 times. Easy and smooth set up in less than 5 minutes, remote viewing from your smartphone or tablet anytime, anywhere. Zxtech CCTV cameras use high-quality chipset. wireless camera can be used indoor or outdoor. IP66 metal waterproof housing works well in rain or snow. WiFi CCTV camera with included antenna helps you avoid interruption caused by obstacles. Wireless CCTV cameras by Zxtech with build-in SD/TF card slot for backup your CCTV footage. Scanning the QR code quick install our free app and you can see what happened no matter when and where you are. All cameras can be used day and night. Place the cameras in a variety of locations that may be inaccessible for wired cameras. With Zxtech wireless cameras, the only cabling you need is a power supply, which is included in the package.
Zxtech Wifi CCTV Camera, great for Indoor & Outdoor, Day & Night monitoring
Wide range of styles as a dome, bullet or pan-tilt-zoom cameras all combine great features such as Sony Starvis Chip for better performance, two-way audio, with no need of an external microphone, up to 5MP resolution, varifocal lens, waterproof housing. Wireless CCTV cameras by Zxtech are future proof and offer you easy setup capabilities through the app, hassle-free and it will save you a lot of time.
Zxtech offers wireless CCTV cameras, for people who are looking for a more convenient form of total security. Their range of wireless cameras is vast and provides users with all of the capabilities of systems that are connected via wires. The Zxtech wireless cameras offer up to 5MP resolution video recording, strong enough to be able to define details such as number plates or facial recognition.
How do wireless cameras work?
Because there are no cables or hardware systems that need to be connected, setting up a wireless security camera is a lot easier than a wired alternative. All that is required is a power connection, the only cable attached to the camera. Zxtech wireless cameras work by connecting to a wifi network, a process that only takes a few minutes to complete. This enables the cameras to transmit a live feed to a computer or mobile device that can access the system via an app. It allows cameras to store recorded information. Recorded video and audio are stored on an SD card, which can then be accessed whenever you need it. Customers can also easily access a live feed from anywhere in the world, simply by logging into the secure closed network via an app that can be downloaded onto a mobile device.
If the cameras have a built-in microphone (many of the Zxtech models do), the audio will be transmitted and recorded as well. The cameras that come equipped with audio-recording capabilities mean that separate microphones, which are bulky and cumbersome, are no longer needed. This helps to create a security system that is well-hidden, and less likely to become damaged.
As well as their simple and quick set up, wireless cameras can easily be integrated into an existing security system. There is no need to replace existing cameras if they are fully functioning, but an extra wireless camera will provide extra protection and coverage of your home or business. Wireless cameras are far easier to take down or move, as there are fewer cables that also need to be adjusted.
Total versatility
All of the wireless security cameras are designed to be able to meet any security need. Whether these cameras are needed indoors or outdoors, they can provide optimal coverage. All Zxtech wireless cameras are waterproof and durable so that they can be placed outside and still last for years to come. They can also easily be placed indoors where there are fewer physical risks of damage, and function perfectly.
Every Zxtech wireless security cameras come equipped with night vision capabilities so that your home or business is securely monitored 24/7. There is no need to invest in lighting in order for your cameras to pick up clear visuals, they are fully capable of recording clear images even at night. Some of the Zxtech models also offer 360-degree rotation, for optimal coverage. The cameras can be easily adjusted in order to provide the widest coverage.
Wireless security cameras also offer a few different recording options. All cameras offer both 24/7 recording, as well as a motion-detection recording so that users can choose the option that suits their situation the best. The latter setting will always have an accessible live feed, but nothing will be saved unless there is movement. This is an ideal option for cameras that are in remote locations, where there is no need to be recording continuously, which would waste significant storage space.
Most wireless cameras do still require a cable connection to a power source. Although this does somewhat limit the location possibilities for the camera, it is still far more convenient than alternatives that have multiple cables. Power cables can also be attached to extensions without reducing the quality of service or connection, giving users more freedom when it comes to placing them. As long as the camera can connect to the wifi network, they will record without issue.
Affordable alternatives to wired versions
Wireless security cameras are no more expensive than other styles of CCTV cameras. Zxtech offer extremely affordable wireless options that still provide excellent-quality recordings, so that you can maintain the safety of your property. They also offer the exact same level of security as wired alternatives. Provided that the cameras are in a location with a strong wifi signal, they are fully capable of recording uninterrupted video. Many of the Zxtech wireless models can function up to 300 metres away from the wifi source, provided that there are no obstacles in the way affecting the connection. This enables users greater freedom to place the cameras wherever they are needed. No matter how big the premises you need to protect is, wireless cameras are fully capable of maintaining total security.
Wireless security cameras are equally as reliable as cable alternatives. They are less likely to suffer hardware malfunctions, as there are fewer wires to potentially break down, which can prevent security footage from being recorded. Wireless cameras are also often a lot harder for vandals to tamper with. Traditional security cameras were often shut down by simply cutting through cables.
Some of the smaller models are incredibly discreet, offering total protection without being obvious. Not only is the camera itself small, but there are no obvious wires leading from it, which tend to make security cameras more obvious. Wireless security cameras are far easier to hide, providing covert footage that can capture any potential dangers around the location.
Live feed can be accessed from anywhere
Wireless cameras are capable of recording footage, but also providing a live feed, with video and audio that can be viewed in real-time. Because the mobile app that accompanies the security network is cloud-based, this can be viewed at any time, from anywhere. The wireless cameras and respective security systems can be accessed by downloading a specific app and then accessing the system. From this, it is possible to watch the live feed from anywhere, as well as access the recordings. This ease of access enables multiple different people to simultaneously view the feed, as well as instant playback of recorded events that have occurred prior.
Next Business Day Delivery
Place orders before 3pm for next business day delivery. Free shipping for all kits.
Customer service
Reach out Mon-Fri, 9am-5pm. Response within 24 working hours.
Refer a friend
Earn rewards when your friends make a purchase.
VAT Invoices
We always include your VAT invoices in your delivery.
Discover everyday privacy protections.
Privacy is Our Priority.
Privacy is a fundamental human right. At Domar CCTV, it is also one of our core values. Your devices are important to your safety. We sell our products to protect your privacy and give you control over your information. It's not always easy, but those are the principles we believe in.
Face Detection Data
Our cameras come with smart face detection features. Face detection data exist only on your device and can be deleted at any time. It does not go anywhere else. Face detection features can be turned off at any time.

Video Footage
Your security footage is protected by your password and cannot be accessed without it. Once you have changed the default password of the device, only manufacturer can reset it, after confirmation of purchase and identity.

Audio Data
Audio recording can be turned on and off if the camera is equipped with a microphone. It cannot be accessed without your password.

App Access
One device can link up with a single mobile app account. However, you may share it with another account and cease sharing at any time.